HOW TO COUNT YOUR WINDOW PANES 
A window pane is simply a singular piece of uninterrupted glass. If you can run your finger across the glass from the top corner to the opposing bottom corner without stopping or crossing a ridge, it's one pane. This rule applies to any pane regardless of how large or small it is. Ignore lines or grids inside of the glass as long as the outside glass surface is smooth.  
A big picture window is just one pane. We're not concerned with the type of window, just how many panes. Sliding glass doors are typically one or two large panes.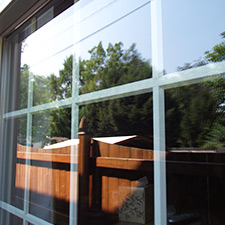 COUNT YOUR PANES
• Pricing is based on how many panes we clean.
• Counting ensures the fastest & most accurate pricing.
• Please don't guess, but errors are okay; we'll check on arrival.
A FEW CLICKS TO REQUEST YOUR ESTIMATE
• The form on our website is the fastest way to contact us.
• Estimate shows pricing for all three packages: Basic, Premium, and Perfection. 
• Email is used for estimate delivery only; no spam.
YOU'VE GOT ANSWERS AND PRICING!
• We'll answer any questions you have.
• Call the office toll free at (855) 460-6888 to schedule.
Storm windows and French Panes are counted differently and we can help with those. We will clean the vertical panes of glass on either side of your front door for free. 
 If you have any questions, feel free to contact us. Once you have your pane count, you can fill out the online estimate form or give us a call to schedule your window cleaning! We will reply with a sheet with all of our packages with perfectly accurate prices.
On the day of your appointment, one of our team members will walk around the exterior of the house to make sure that the count is right. If you're off by a few, don't worry about it. If there are any windows you do want to skip (maybe basement or garage windows), just leave them out of your count.
More information can be found here. Request your free estimate online or by calling our office at 765-808-0561. We look forward to making your house shine!