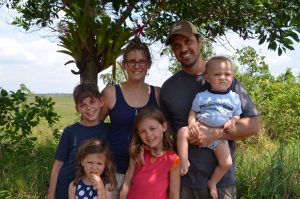 Jacob (Jake) Jones started cleaning gutters as side work not long after graduating from Taylor University in 2003. Within 6 months, a dream and goal had developed.  At that time the In & Out Cleaning name stuck, and his wife Lauren (who came up with the name) had joined him in providing cleaning services in the Muncie area and northern Indianapolis.
Jake grew up as the son of missionary parents in Colombia, South America, but moved to the the United States for college (B.A. in Philosophy and History). He is married and has four beautiful children. He is passionate about the vision of the company and cares most of all that the bottom line of the business is built upon honesty, integrity, and self sacrifice. In the summer of 2015, Jake shifted his role to a supportive, advisory position within the company, allowing him and his family to join another development group in Colombia, South America.
Jason Mann is the Operations Manager for In & Out Cleaning.  Jason previously spent a few years post-college in a couple different jobs, before being asked to come on board as a window washer in 2007.  Around this same time, he and his wife had intentionally moved into an "at risk" Muncie neighborhood along with a handful of other young families, desiring to bring reconciliation, stability, and hope to the people living nearby.  He has a heart to love those that are typically overlooked, as is evidenced by he and his wife growing their family through adoption, as well as through his commitment to the vision at In & Out Cleaning.  Jason takes great pride in all he does, and tries to encourage a sense of craftsmanship in others.  He transitioned into more administratively-focused duties in 2010 and into management roles over the following few years.  Since Jake's shift to Colombia in 2015, Jason has assumed all general management of the business.